Mechanical Zero Point Clamping System
for Quick Change Fixturing
Modular Pull Clamping System allows quick change fixturing with 0.005mm locating repeatability on CNC machining centers.
Quick locating and clamping reduce fixture set up time by eliminating operations such as positioning, centering and fixing with screws.
This mechanical zero point clamping system holds fixture plates in different sizes by changing the mounting position.
Pillar-Shaped Pull Clamps
Pull down the clamping screws mounted on the bottom of fixture plates.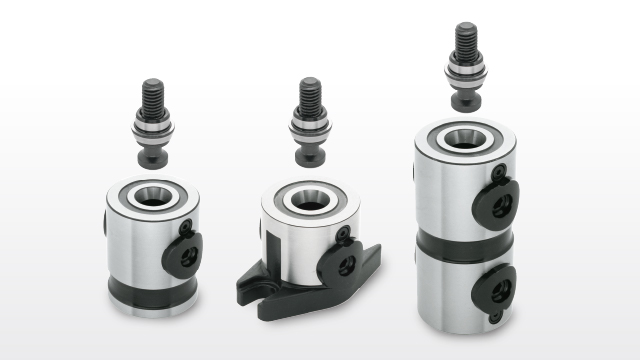 Excellent Repeat Accuracy
0.005mm repeatability by dual surface contact
External fixture setup eliminates machine downtime.
Positioning and clamping in one operation
Just turn three times
Flexible to fixtures in various sizes by changing the mounting position of modules.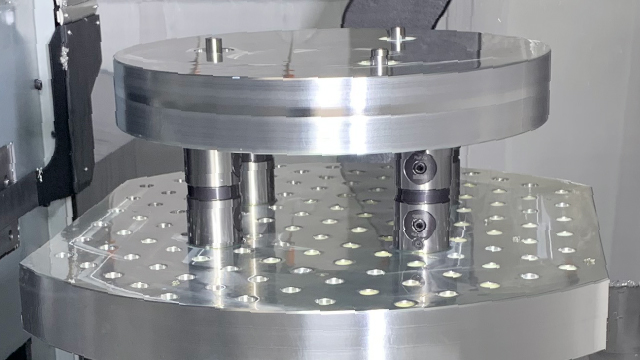 Hook Type for Horizontal Machining Centers
Just lower the fixture for hanging on the clamping module.
Hook-shaped clamping screw secures onto open module body to provide quick, safe clamping.
Clamping screw remains on the module to prevent the fixture from falling before tightening.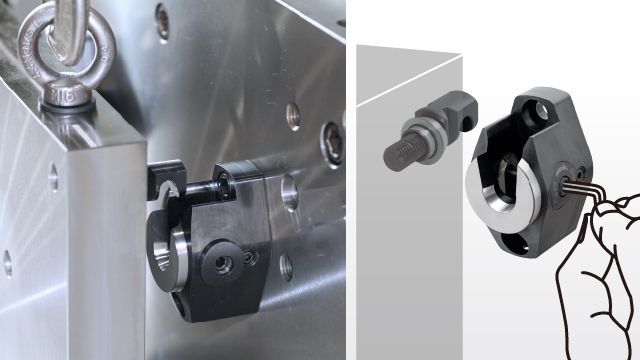 Workholding on 5-Axis Machining Center
Cylindrical body eliminates tool interference.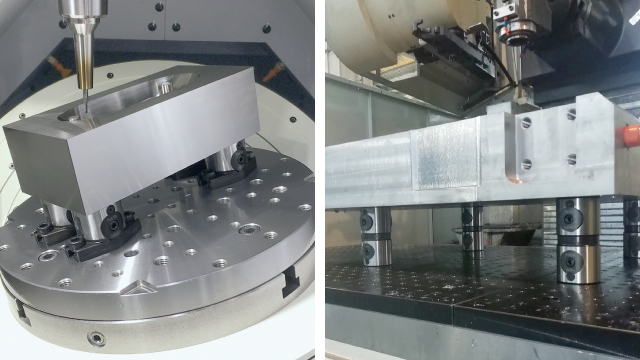 5-axis machining without tool interference provides
Process integration for better productivity
Simple workholding with Pull Clamping System for shorter fixture preparation time
Better machining accuracy by finishing in a single setup
Lower fixture cost by reducing fixture quantity
Riser Screws for Workpiece Raising
Raise workpiece with Riser Screws to avoid tool interference in machining operation close to clamping modules.
CASE 1 Quick change fixturing for horizontal machining center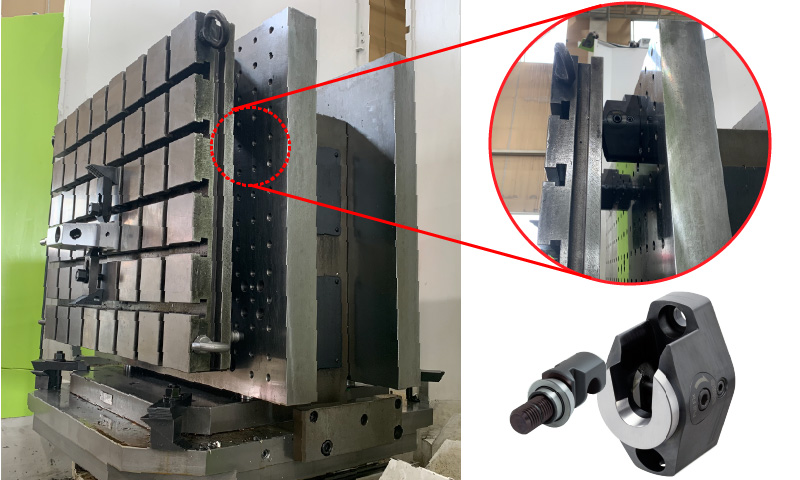 UOGISHI SEIKI INTERACTIVE CORPORATION manufactures die casting molds for major automobile manufacturers. They use IMAO Modular Pull Clamping System Hook Type to change fixture plates on their horizontal machining center. With this horizontal machining center, they produce parts of die casting molds in single part production. Previously, operators had to stop machines for leveling and parallelizing workpieces in the machine, once workpieces changed. It took 15 to 30 minutes to set up the workpiece and this depressed machine operating rate was a headache for UOGISHI SEIKI.
Therefore, UOGISHI SEIKI introduced Modular Pull Clamping System Hook Type to mount fixture plates onto the tooling block, after leveling and parallelization of the workpiece outside the machine. Since Modular Pull Clamping System Hook Type positions and fixes the fixture plate with an accuracy of 0.005 mm, the setup time in the machine became almost zero. UOGISHI successfully improved the machine operating rate. In addition, hook-shaped clamping screws are designed to be tightened after hanging on the body of clamps, making it easy to change fixture plates on horizontal machining centers.
UOGISHI SEIKI is satisfied with its high repeat accuracy, easy changeover operation, and high clamping force of Modular Pull Clamping System Hook Type.
CASE 2 Quick and easy changeover & fixture sharing among machines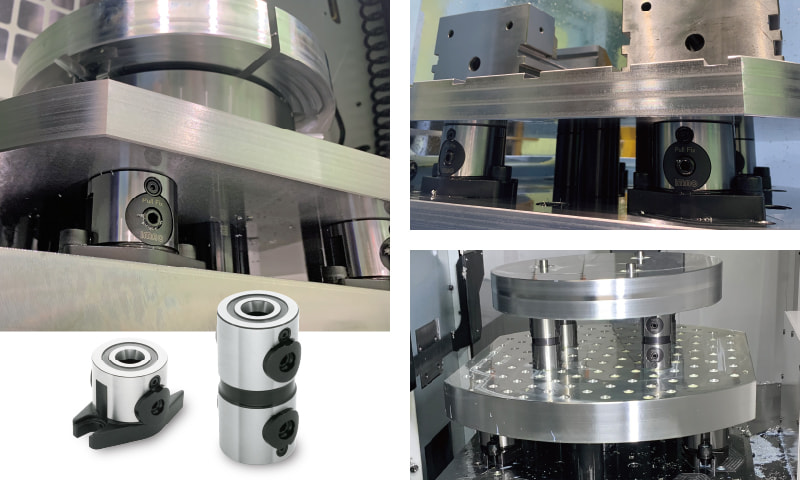 FUJIMEC specializes in machining precision parts and difficult-to-machine materials. They machine, solder, weld, and assemble parts for semiconductors, liquid crystals, and vacuum equipment. FUJIMEC has vertical, horizontal, and 5-axis machining centers and they use Modular Pull Clamping System to change fixtures on these machines.
Previously, fixtures were mounted directly on their machine table or mounted with a quick change plate made by another manufacturer depending on each machine. It sometimes took several hours to mount fixtures, vises, or chucks to their machine table directly because it required centering by an experienced operator.
Another problem was that their previous fixed-size quick change plate did not allow the same fixture to be installed on machines of different sizes. Even if a new workpiece came in, it was only machined on a particular machine that could install the fixture.
FUJIMEC introduced Modular Pull Clamping System and succeeded in drastically reducing the setup time and standardizing fixtures among their various machines. Modular Pull Clamping System positions and fixes fixture plates with an accuracy of 0.005 mm. Anyone can change the fixture securely in just a few minutes with easy operation, so the setup time was greatly reduced.
Modular Pull Clamping System can mount to the desired position on fixture plates, making it possible to share fixtures in their machines of different sizes. FUJIMEC is also highly satisfied with the pull clamping screws which are easily used for any fixtures because they are space-saving, easy to install, and cost-saving.
In addition to these advantages, FUJIMEC utilizes Modular Pull Clamping System as a workholding solution. They use it as pull-in clamps on 5-axis machining centers by installing clamping screws to the bottom of their workpieces. The 5 surfaces have zero tool interference with the fixtures and this contributes to the process integration. When it is necessary to raise a fixture, fixture plates can be stacked using Modular Pull Clamping Systems, and no centering is needed, making it easy for anyone to operate.
FUJIMEC has made a new quick change system using Modular Pull Clamping System and succeeded in improving their machine operating rate and shortening their product delivery time.
Modular Pull Clamping System
CP150

CLAMPING MODULES (Flanged)

CP151

CLAMPING MODULES (Double)

CP152

CLAMPING MODULES (Single)

CP155-L

TAPERED CLAMPING SCREWS

CP155-LS

TAPERED RISER SCREWS

CP155-D

TAPERED CLAMPING SCREWS

CP155-DS

TAPERED RISER SCREWS

CP158

DOUBLE TAPERED CLAMPING PINS
Modular Pull Clamping System Hook Type
CP160

CLAMPING MODULES (Hook)
CP165-LH

TAPERED CLAMPING SCREWS (Hook)

CP165-L

TAPERED CLAMPING SCREWS

CP166-H

CLAMPING SCREWS (Hook)
Please wait for a while until the form is displayed.
Sorry, if you do not see the form, please contact us via email address info@imao.com.
If you cannot access to the CONTACT FORM, feel free to send your message to info@imao.com.
Message , First Name /Last Name , E-mail , Company , Country , Phone