CASE 1 Pull-down clamping system with high locating repeatability reduced setup time to one-fourth!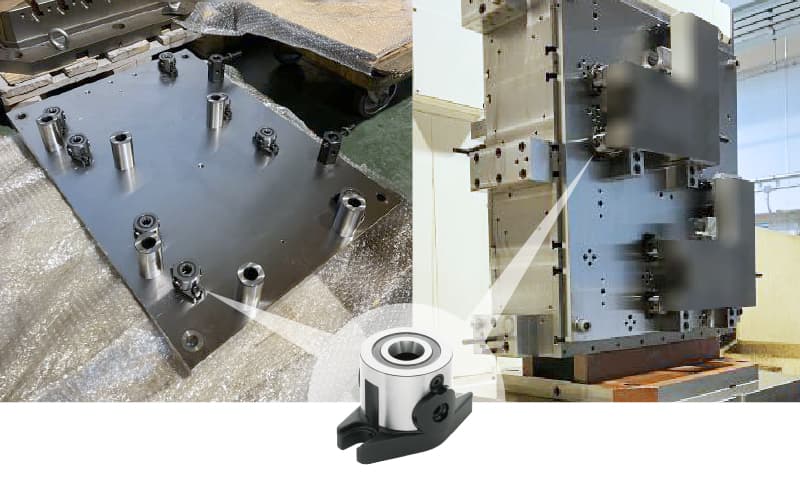 TOYO MACHINE MFG. manufactures parts for machine tools and industrial machinery. They machines various workpieces of 300 - 700mm square size in three processes with IMAO's Modular Pull Clamping System, which pulls down the clamping screws mounted on the bottom of the workpieces.
In the first process, the mounting holes are prepared for the clamping screws on the back of the workpiece using a vertical machining center. In the second process, the workpiece is placed horizontally on a horizontal machining center and clamped with Modular Pull Clamping System to machine the side surfaces. In the final step, the workpiece is clamped again with Modular Pull Clamping System on the tooling block, and the top surface is finished with a horizontal machining center.
In the past, they had to correct the position of the workpiece in the second and third processes to ensure that the reference surface was parallel perfectly to the machine pallet. It took a lot of time to measure the reference surface and make repeated fine adjustments to the workpiece position. In addition, the workpieces had to be machined from different positions, which made them difficult to clamp. Each time the machining area was changed, they had to stop the machine to move the conventional clamping straps to avoid tool interference. TOYO MACHINE considered this complex setup, which causes a decrease in the machine operating rate, to be a major problem.
This led them to adopt IMAO's Modular Pull Clamping System as the fixture of the second and third processes for rapid workpiece positioning and clamping, also 5-sided machining. The workpiece now can be quickly located by simply inserting the clamping screws into the clamping modules, eliminating the need for fine adjustments. Pull-down clamping allows the workpiece to be clamped without tool interference and also eliminates the need to change the position of the clamps.
The setup time was reduced from 105 minutes to 25 minutes for the second and third processes. The time and effort required to set up their fixtures were greatly reduced by eliminating the need to move the clamps.
TOYO MACHINE improved the setup and the machine operating rate using Modular Pull Clamping System.