CASE 1 Robotic workpiece clamping boosted production volume tenfold!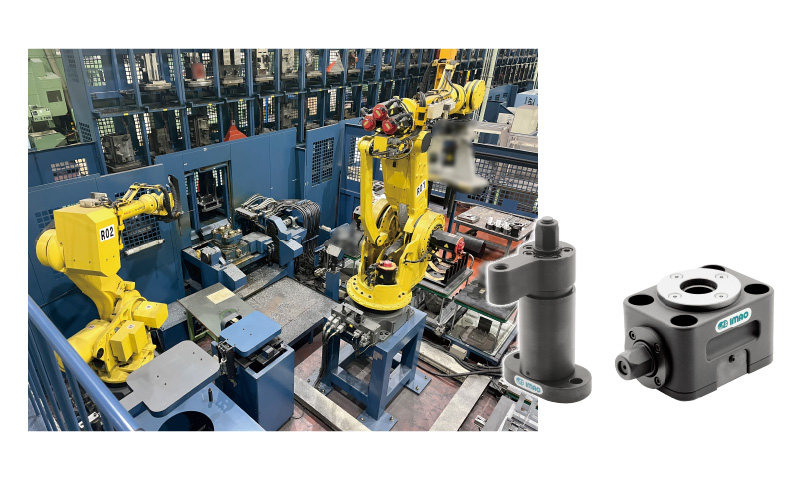 Matsuura Machinery Corporation is a machine tool manufacturer that offers innovative technology worldwide. They use IMAO's Nutrunner Pull Clamps and Swing Clamps in their fixtures for pallets and spindle housings of 5-axis machining centers.
Matsuura was tasked with increasing pallet production to accommodate the use of pallets from the existing machine to the new 5-axis machining center. They considered using the same manufacturing facility for nighttime machining but decided against it because workpiece setup requires manpower even during the night. They finally decided to transfer pallet machining to the flexible manufacturing system (FMS) line with robots, which had been machining other workpieces.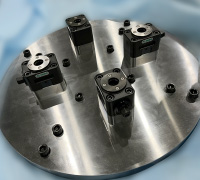 To manufacture the pallet, the bottom surface is machined first to make 4 tapped holes beforehand using another machining center. The operator installs clamping screws in the tapped holes and feeds the workpiece into the setup station, then the robot conveys it to the fixture. Another robot tightens Nutrunner Pull Clamps on the fixture for top and side surface machining. This enabled the robots alone to machine at night and significantly increased pallet production from one to ten per day.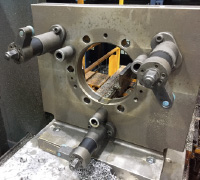 Matsuura's engineering team then decided to relocate the production of multiple spindle housings to the same FMS line for greater efficiency. In the first operation, the robot transfers the part to the 1st fixture and tightens Nutrunner Swing Clamps to make tapped holes on the bottom surface. In the second operation, the spindle housing is manually secured on the 2nd fixture fitted with clamping screws and fed into the setup station. The 2nd fixture is conveyed by the robot to the machine pallet, and it is fixed on the pallet by Nutrunner Pull Clamps to machine the top and side surfaces.
Not only has Matsuura achieved a significant increase in production through robotic fixturing, but they have also enabled efficient machining of a wide variety of workpieces on the same line by using Nutrunner Clamps as a universal fixture. Operators are now able to perform more value-added tasks by having robots perform simple workpiece and fixture changes. They also appreciate that the mechanical design of Imao's nutrunner clamps simplifies fixture design and maintenance compared to hydraulic fixtures, and is also cost-effective.